You may have noticed, this blog has been at a stand still for over a month. I've been attempting to muster up the courage to talk about this topic. What I'm about to share humbling but, in doing so, I am letting go of any shame I have related to it.
I don't claim to know the answers. I am not by any means saying that anyone else is doing it wrong. I am doing what I am doing because God put something on my heart and I am trusting Him. I was given a direction and I am stepping out in faith.
This is my experience…
Money
There is one question that everyone wants to ask... many do, but some are not so bold to. So, I decided to go ahead and put it out there. This may be the area that frightens people the most. Perhaps, even over our safety.
"How do you afford it?"
And then, the follow up questions…
"What about retirement?"
"What about health insurance?"
And the well- meaning comments…
"Well I just hope you aren't going to screw yourself over in the long-run."
"You are in your prime earning years!"
"Working is a fact of life."
My response: God always has and always will provide.
My hope above all else is that you, the reader, will see God's faithfulness in my story. His goodness. His love for his children. His power. To Him alone be the glory.
The Triple Whammey
So, here's the nitty-gritty. The taboo. The stuff you are not supposed to talk about.
Daniel has not had a steady job in over a year. And, we have no money. And, here's the kicker, we are not worried about it. Maybe we are brilliant. Maybe we are fools. But either way, I will tell you about our journey.
It took some steps to get here. We started down the financial rabbit hole that many young people do when they get married/ buy a house/ have kids.
The week I gave birth to Abby, January of 2016, we began the process of buying our first home. We also decided I was going to leave my career in banking. A triple whammey. Have a kid. Buy a home. Become a single- earner household. I won't say it was a mistake because it got us where we are today but it sure did stretch us to our limits.
We knew going in; it wouldn't be easy. On paper, it didn't make sense. We took a leap of faith. I wanted to be with my daughter in her formative years. Whatever it took. It took sacrifices like not eating out, no vacations and spending as little money as possible. We were willing to make them.
What we didn't realize is that Daniel would be working so much overtime, we would never be together. Even with all the overtime, we could barely pay the bills. When we had a vehicle emergency, it blew the budget and we sometimes resorted to putting those charges on our credit card. Then, we would pay that off with our tax refund each year. We really couldn't afford our home but we always made it work. God provided.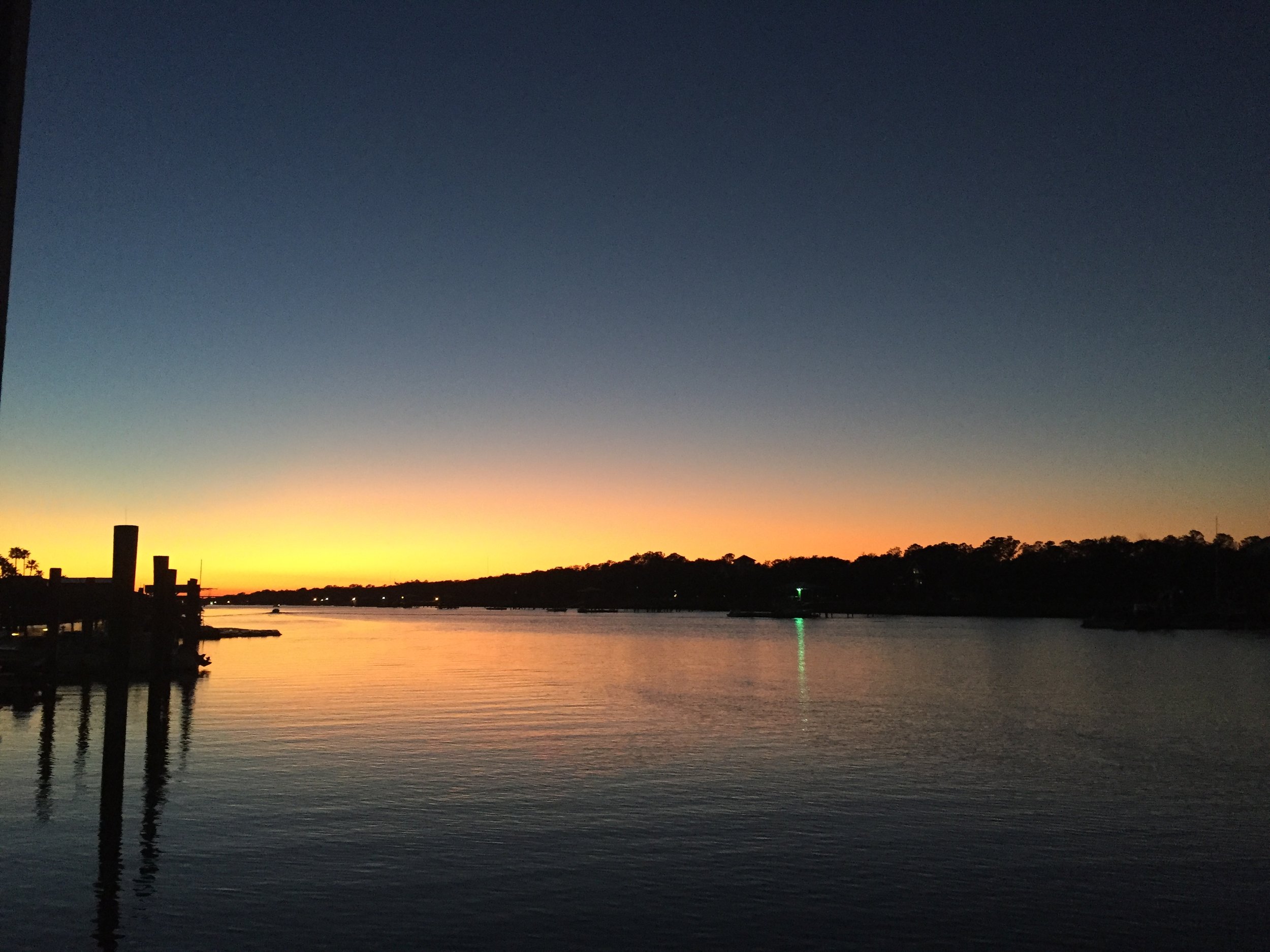 "The borrower is slave to the lender"
-Proverbs 22:7
Debt-Free
Ultimately, we decided NOT to do what our instincts told us to, which is: figure out how to make more money. Keep up with the Jones's, so to speak. We didn't want what the Jones's had. We are no dummies but we found ourselves in a difficult situation. It was putting a strain on our marriage and our peace and joy. We sought a way out.
In January of 2018, we welcomed Hadley into the world. This is when we started getting serious about sailing away. I had nearly $26K in student loans, which I had slowly dwindled down from $42K over the previous 10 years, along with paying off a car.
The way we went about paying off debt is a path that no worldly financial adviser would probably ever recommend. But, I haven't regretted it for one second. And, I don't think I will at age 65 either.
We cashed out my retirement from the 6 years I worked in banking ($26K after setting aside penalties and taxes.) This was about $1000 shy of paying off my entire student loan and our credit card. It was our first step to freedom.
After a little over 2 years of living in our home, we placed it on the market and sold it in July, 2018. Our profit from selling our home was $37K. This was twice the typical return on investment in our area. God provided.
A chunk of that went to the purchase of our new boat ($22K), tithe ($3700) and my yoga training (3k). Officially DEBT-FREE and we haven't gone back since.
All-In
Once we purchased the boat, our expenses consisted of marina fees, boat projects and maintenance, food, gas and insurance. We lived on the remaining profit from our home ($8K) and some accrued PTO payout from D's work ($5K) for 3 months.
Then, we ran out of money.
We knew it was coming. This is when God began to show off. In one week, when we had less than $500 in the bank, we had a couple of people give generously to us. Also, we sold both vehicles and Daniel paid for his sailing school which was $2500. This left us with about $9K in the bank when we departed Wilmington on December 12, 2018.
These funds lasted until March. Hopping from marina to marina is expensive but we had no choice because it was cold and we needed shore power for heat. Also, we were still acclimating to living on a boat. (From September, 2018 to September, 2019 we have spent around $11K on marina fees. Our current marina is $400/month for a mooring ball. We have plans to become more self-sufficient and eliminate the need for marinas altogether.)
We made the decision to cash out Daniel's retirement. I remember feeling emotional and fearful about this decision. This meant we were all-in. The Lord gave me several verses to reflect on during this time that gave me peace.
"And my God will meet all your needs according to his glorious riches in Christ Jesus." -Philippians 4:19
"Keep your life free from the love of money, and be content with what you have, for he has said, 'I will never leave you or forsake you.'" -Hebrews 13:5
"No one can serve two masters. Either you will hate the one and love the other, or you will be devoted to the one and despise the other. You cannot serve both God and money." -Luke 16:13
We also filed our taxes around this time. Jesus shows up in the tiniest details, if I am paying attention. As it turns out, had Daniel worked ONE more week at his job, we would have been bumped into the next tax bracket and hardly gotten a return at all. OR, if we didn't have my student loan interest write-off, the same thing would have been true. God provided.
Our Daily Bread
While we were waiting on Daniel's retirement funds, our account got down to around $300. We sold a gun ($500 profit) and Daniel got a gig on Valentine's Day delivering edible arrangements. ($120) He was able to do this job because he had his mom's car to drive to Ft. Lauderdale for his sailing course- great timing. God provided.
On Valentines Day, I got a wink from God. Our boat was stationed on the boat ramp where the fishermen came and went. While I was fixing dinner on our little grill in the cockpit, a man offered me two sea bass (pictured below). Two Fish! That man and those two fish represented hope in a moment when we were pretty much flat broke. It was just the encouragement I needed.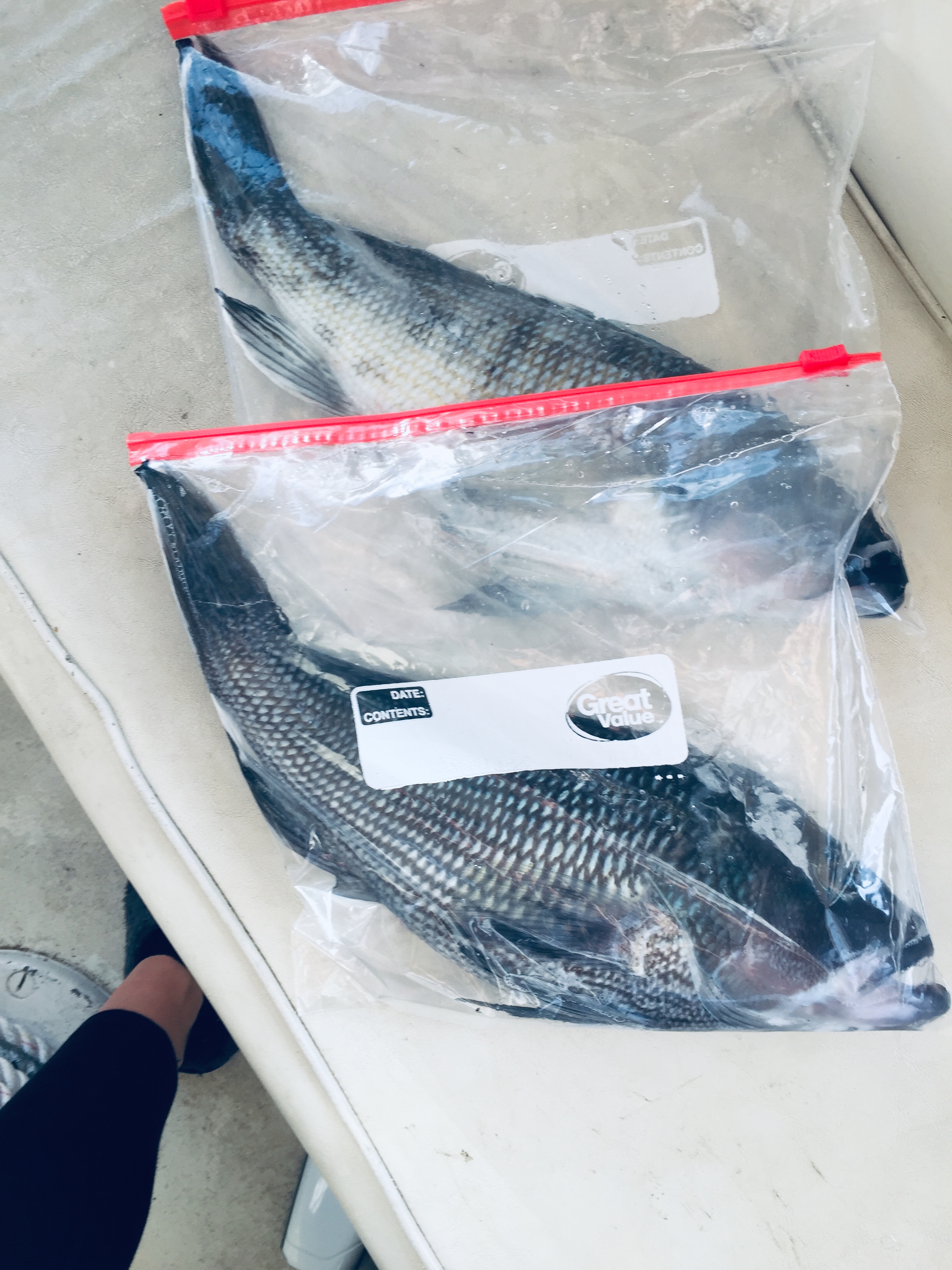 The Lord is my Shepherd; I shall not want.
-Psalm 23:1
Then, the kind Edible Arrangements folks sent Daniel home with some chocolate-covered strawberries, 4 HUGE boxes of strawberries and 3 chocolate heart candies. God is so good. He even sent strawberries and chocolate to go with our fish! God provided.
We received the retirement money ($18K after penalties and fees) and our tax refund ($6K) by mid- March, 2019. These funds, along with some generous support from friends and family, have lasted us 7 months.
I know what most everyone is thinking… we've lost our minds. To be clear, we have no intentions on not working. We simply wanted out of the rat-race. We have been striving to get to the place we can be of maximum service. In the meantime, we have been letting go of several old ideas.
I'll hand it to you… what we are doing is pretty crazy. Financially. One of our mentors told us once, "God's economy does not make sense."
It's not supposed to.
It's a faith-filled way to live. One of my favorite books ever puts it like this:
"In its inner and most important meaning, our daily bread signifies the realization of the Presence of God- an actual sense that God exists not merely in a nominal way, but as THE great reality; the sense that He is present with us; and the feeling that because He is God, all-good, all-powerful, all-wise, and all-loving, we have nothing to fear; that we can rely upon Him to take every care of us; that He will supply all that we need to have; teach us all that we need to know; and guide our steps so that we shall not make mistakes. This is Emanuel, or God with us;…"

-Emmet Fox, Sermon on the Mount
We are living a life that most people are too afraid to live. Trusting and relying upon God- ENTIRELY.
Health Insurance
This is another area people freak about. Myself included. Daniel has had to talk me down from the ledge on this one a couple times. In general, on most matters, he bucks the system, which I am learning to appreciate.
We do not have health insurance. (Insert inner voice of most American citizens- "That's so irresponsible! You have two small children! How could you?")
A few points I'll mention here…
1) Just because we don't have health insurance, does not mean we don't have health coverage.
2) We have been blessed beyond belief with good health. Thank you, God!
3) We don't eat junk and spend more money on food than some and consider this health insurance.
4) No one requires any prescription medications.
5) We live very active, healthy lifestyles.
We have spent $756.05 on health care year to date. Out of pocket. This includes one well check for Abby, two well checks for Hadley, getting both girls current on all vaccines and a dental cleaning for me. This is about the amount that came out of Daniel's paychecks in a month for health, dental and eye insurance. $756.05 in the country with the highest healthcare costs in the world. We anticipate this will be less when we leave the country.
Where do we stand?
Just before the lightening strike, Daniel started getting side-jobs in the marine industry. Boat maintenance. Cleaning hulls. It was good work. Payed well. It was sustainable. Also, I had some prospects for yoga classes. God provided.
Since we've been in Charlotte, several people have reached out to both of us for work in Miami. Our life is waiting for us there. We are eager to return.
I have had a theme in my quiet time over the past few months. It's the story of Shadrach, Meshach, and Abednego in Daniel chapter 3. This is my cliff notes version of how the story goes:
King Nebuchadnezzar made a gold statue. He made a law that the people had to bow down to this statue. Anyone who refused to obey would be thrown into a blazing furnace. Shadrach, Meshach, and Abednego refused to serve King Nebuchadnezzar's gods or worship the gold statue. When Nebuchadnezzar heard of this, he ordered that the 3 men be brought before him.
I equate my past 11 weeks in Charlotte to verse 15:
The king said, "I will give you one more chance to bow down and worship the statue I have made when you hear the sound of the musical instruments. But if you refuse, you will be thrown immediately into the blazing furnace. And then what god will be able to rescue you from my power?"
Getting support from others is humbling. We are two able-bodied people. Sometimes I wish I was working. A stable job. Steady income sounds appealing. Safe. Normal. Responsible.
In Charlotte, the temptation is everywhere to go back to a weekly paycheck and security. But, it's simply not what this family is called to. We are turning down the chance to bow down and worship money, security, material possessions.
As the story goes, Shadrach, Meshach, and Abednego declare in verse 17 "if we are thrown into the blazing furnace, the God whom we serve is able to save us." They trusted their God with their lives. With complete abandon.
He is ABLE. That is what is important. I've said it before and I'll say it again, what we are doing is not important. Quite frankly, I'm sick of myself. Rid me of my view on life, finances, relationships. Fill me with your thoughts, Lord. Your ideas.
He has changed my heart in the area of finances. My plans and designs involved working till I retire with a hefty amount of money stowed away so I can be comfortable. Because, that's the responsible thing to do, right?
He called me to be uncomfortable.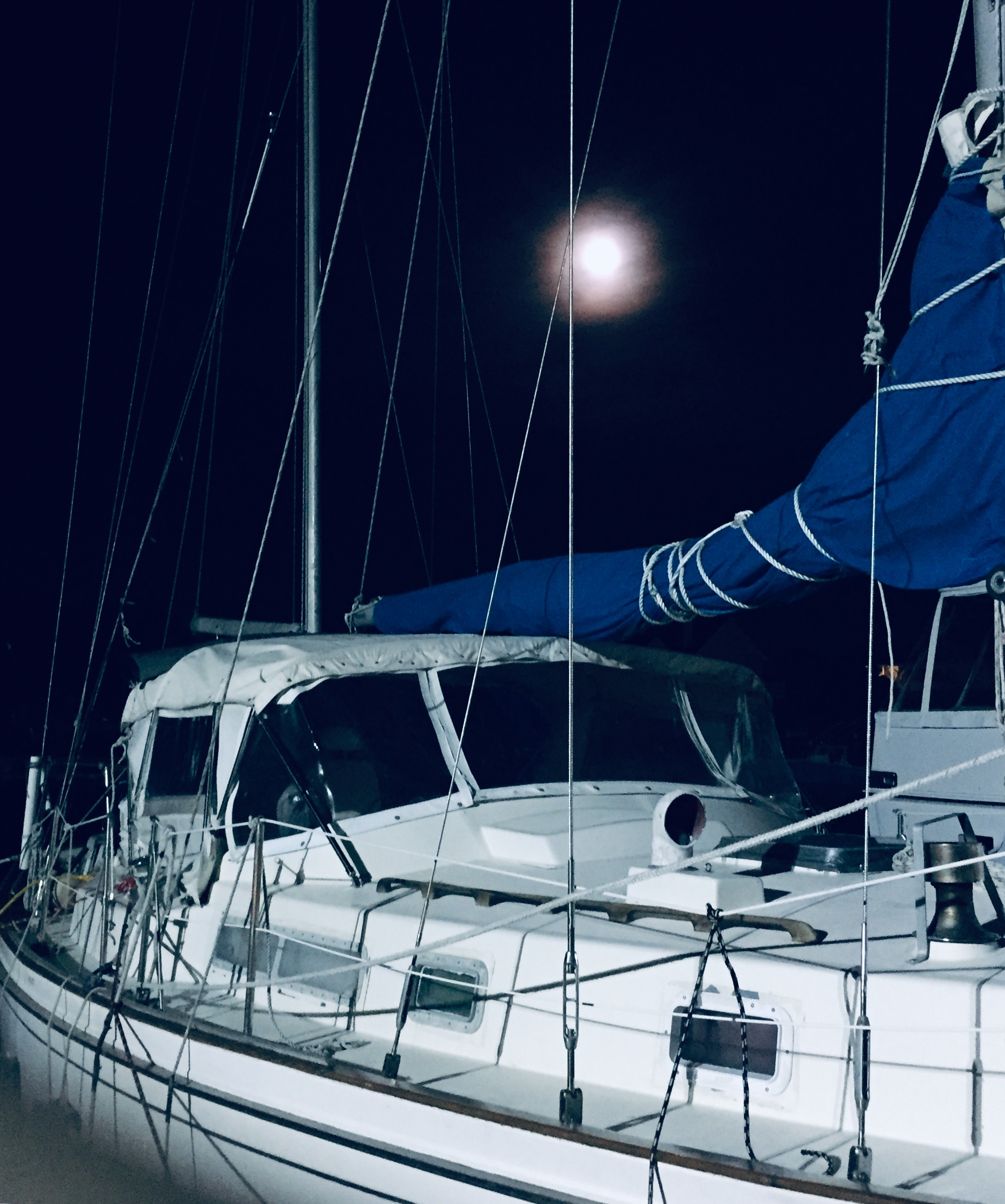 "And I am sure of this, that he who began a good work in you will bring it to completion at the day of Jesus Christ." - Philippians 1:6
We get SO MUCH support. It comes in many forms. Prayer. Phone calls. Frequent flyer miles. Following our journey. Reading this blog. Speaking words of wisdom and encouragement. Letting us crash at your place. Financial support. Believing in us. We are so grateful and we know that God is blessing us through you! THANK YOU, THANK YOU, THANK YOU.
We have a flight booked! We are returning to our floating home, SV Alive, in a few days, on Wednesday, September 18th. We don't have much but, we have exactly what we need. God will continue to provide. Stay tuned!
Let your light shine.

Sharing this journey with you is truly a pleasure. It's a dream to have people read my writing so, THANK YOU! If you want a notification when I make a new post, e-mail your name to SVAlive@yahoo.com.